VIDEOS, INTERVIEWS & PHOTOS
Click here to see the book cover.

Ricardo Alarcón Two-part video in English on Telesur with journalist Cristina Escobar - Havana, Cuba, September, 2015

Ricardo Alarcón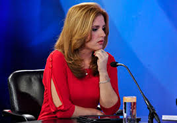 Cristina Escobar
Click here to view

Arnold August two-part interview with Global Research - Montreal, April 29, 2013
Click here for the interview in the three languages.
Haga clic aquí para ver la entrevista en los tres idiomas.
Klicken Sie hier für das Interview in den drei Sprachen.

Interview/Exchange with Arnold August at CJSF Radio, Simon Fraser University - Burnaby, British Columbia, Canada, May 18, 2013
Latin Waves

Radio Interview with Arnold August at Voices with Vision, WPFW 89.3 FM - Washington DC, June 4, 2013

Washington D.C. Book Presentation - June 4, 2013

Left Forum panel: The Twenty-First Century Latin American Left - New York, June 8, 2013
Arnold August presented a paper entitled "Cuban Democracy and the Twenty-First Century Latin American Left".

Book Launch in Ottawa - June 12, 2013

Florida Radio: Arnold August Radio Interview and Discussion at WJFP -  Fort Pierce, Florida, June 17, 2013
Reality News Radio – Radio Cubanía

Interview with Arnold August at CKUT Radio McGill 90.3 FM - Montreal, June 19, 2013
The Wednesday Morning After

Democracy in Venezuela and Democracy in the U.S. - Montreal, June 19, 2013
Conferences and book presentation by Professor Claude Morin and Arnold August
Click here for further information and Photo Gallery