ABOUT THE AUTHOR
A continuación proporcionamos en español
BIO
Click here to see the book cover.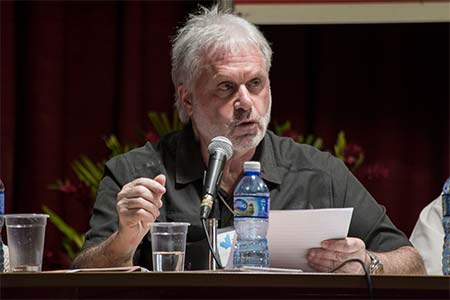 Arnold August holds a Master's degree in political science from McGill University, Montreal. The Montreal-based author, journalist and lecturer is the author of Democracy in Cuba and the 1997–98 Elections (Editorial José Martí, Havana, 1999). He has also contributed a chapter entitled "Socialism and Elections" to the edited collection Cuban Socialism in a New Century (University Press of Florida, 2004, Contemporary Cuba series edited by John Kirk). In 2013, Cuba and Its Neighbours: Democracy in Motion was co-published in English by Zed Books (UK) and Fernwood Publishing (Canada), distributed in the U.S. by University of Chicago Press. The countries under consideration are the U.S., Venezuela, Bolivia, Ecuador and Cuba. The common thread is participatory democracy. In 2015, the Spanish version was published in Cuba by Ciencias Sociales and released in Korean by a progressive South Korean publisher. Between 2007 and 2013, as part of the opposition to ongoing media disinformation on current affairs, he wrote more than 50 articles on Cuba and Latin America published on many websites around the world, most of them bilingually in English and Spanish and many in French as well. In the same period, he was interviewed on dozens of alternative radio programs in the U.S. and Canada. Since 1999, based on his books published in English, he has given conferences and lectures in universities in the U.S., Canada, Europe, Cuba and Puerto Rico. He is a member of the Latin American Studies Association (LASA, based in the U.S.), the Canadian Association for Latin American and Caribbean Studies (CALACS) and the Cuba Research Forum at the University of Nottingham (UK).
ESPAÑOL
Arnold August (Montreal, Canadá, 1944). Tiene una maestría en Ciencias Políticas de la Universidad McGill de Montreal. Escritor, periodista y conferencista, es autor de Democracy in Cuba and the 1997-98 Elections (Editorial José Martí, La Habana, 1999). Escribió asimismo un capítulo intitulado "Socialism and Elections" para la colección Cuban Socialism in a New Century (University Press of Florida, 2004, serie Cuba Contemporánea, editado por John Kirk). Cuba y sus vecinos: Democracia en movimiento apareció en inglés en 2013 y en español en 2015 en Cuba (Editorial Ciencias Sociales). Ha sido publicado igualmente en coreano por una editorial progresista de Corea del Sur. En el período de 2007 a 2013, como parte de la campaña contra la desinformación constante de los medios sobre temas de actualidad, escribió más de 50 artículos sobre Cuba, los cinco cubanos antiterroristas presos injustamente en los Estados Unidos de América, y sobre América Latina en muchos sitios web del mundo, la mayoría en inglés y español, aunque una parte de estos también en francés. En ese mismo lapso concedió múltiples entrevistas a programas de la radio alternativa de los Estados Unidos de América y Canadá. En 2013, recibió la Distinción Félix Elmuza, máxima condecoración que se otorga a periodistas nacionales y extranjeros a propuesta de la Presidencia de la Unión de Periodistas de Cuba (UPEC). Sobre la base de sus libros publicados en inglés, desde 1999 hasta la fecha ha dictado conferencias en universidades de los Estados Unidos de América, Canadá, Europa, Cuba y Puerto Rico. Es miembro de la Asociación de Estudios Latinoamericanos (LASA, por sus siglas en inglés), cuya sede está en los Estados Unidos de América, la Asociación Canadiense de Estudios Latinoamericanos y del Caribe (ACELC), así como de la Cátedra de Investigaciones de la Universidad de Nottingham sobre Cuba, Gran Bretaña y la Red de Intelectuales, Artistas y Movimientos Sociales en Defensa de la Humanidad.