UNIVERSITÉ LAVAL, QUÉBEC
November 14, 2013
Click here to see the book cover.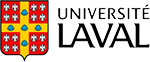 Géographie de l'Amérique latine (GGR-2502, 1er cycle, 3 crédits)
Soon to be published: Further information in English
Faculté de foresterie, de géographie et de géomatique, département de géographie
Professeure : Nathalie Gravel
XII  (14 nov.) L'état des démocraties en Amérique latine. Haïti, Pérou, Équateur, Argentine, Vénézuela et Chili. Cuba. Révolutions, coups d'État, dictatures et répression. L'émergence des femmes comme instigatrices de la réconciliation et du retour de la paix. Charte démocratique interaméricaine. Remise des projets de résolutions.
Click on the magnifying glass icon (right side of the caption) to enlarge any picture in the Power Point slides.
To go back to Academic Book-Tour Speaking Engagement page, click here